As an extremely introverted person, I really find it difficult to network. Connecting with strangers really drains me. I do not like its transactional nature. And the truth is I am too much of a mess during small talk. I always feel awkward, afraid of running out of things to say. Networking cocktails still do not feel natural to me. I'm still trying to understand how to enter and exit conversations.
However, once I've connected with somebody, that's the easy part. I can easily handle one-on-one coffees and just random chats. I like listening to people and trying to help them however I can.
This year, to force myself to "go out" more and create new relationships, I pushed myself to conduct an experiment. This experiment started from October, so about 3 months now. It was simple:
Every weekday, I would connect with one interesting stranger on Linkedin.
That's it. Either I come across their profiles when they liked a post of a current contact or I come across one of their work that I found interesting. I tried to do it everyday but there were just some days when I just could not think of whom to connect with. I then connect with them with a personal note on why I would like to be their contact.
Since the experiment started, I've sent out invites to 56 people. Out of these, 47 have connected with me. Out of these 47, 8 sent a personalized response, typically thanking for connecting. Out of these 8, I've chatted with 3 people.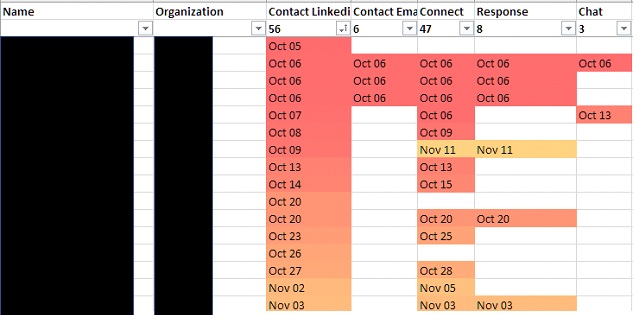 I think it's been a successful experiment so far. For someone who barely used Linkedin to now connecting with one person every day, I think it's a good achievement already. However, I had not been too deliberate about scheduling conversations with these people to get to know them better. For next year, my goal then is to increase my rate of personally connecting with newly formed connections.