The last few months gave me some things to think about with respect to which research directions I would like to pursue. To be productive about these reflections, I decided to step back a bit and see what are the emerging topics in technology and innovation management. I wanted to check what conversations are happening currently across the literature and see which conversations I can potentially join.
To do this, I downloaded articles published from 2020 to the present in the Web of Science. I used the keywords "technolog*" and "innovat*". I narrowed down the articles to the top journals in general management namely: academy of management review, academy of management journal, administrative science quarterly, organization science, journal of business venturing, entrepreneurship theory and practice, strategic management journal, strategic entrepreneurship journal, journal of management, organization studies, journal of management studies. As seen this excludes the top/traditional TIM journals like research policy and technovation as I wanted to see which conversations are diffusing outside of my smaller circle.
I analyzed about 549 articles and did the typical bibliometric analysis. I came up with the following bibliometric coupling map, which shows the different themes.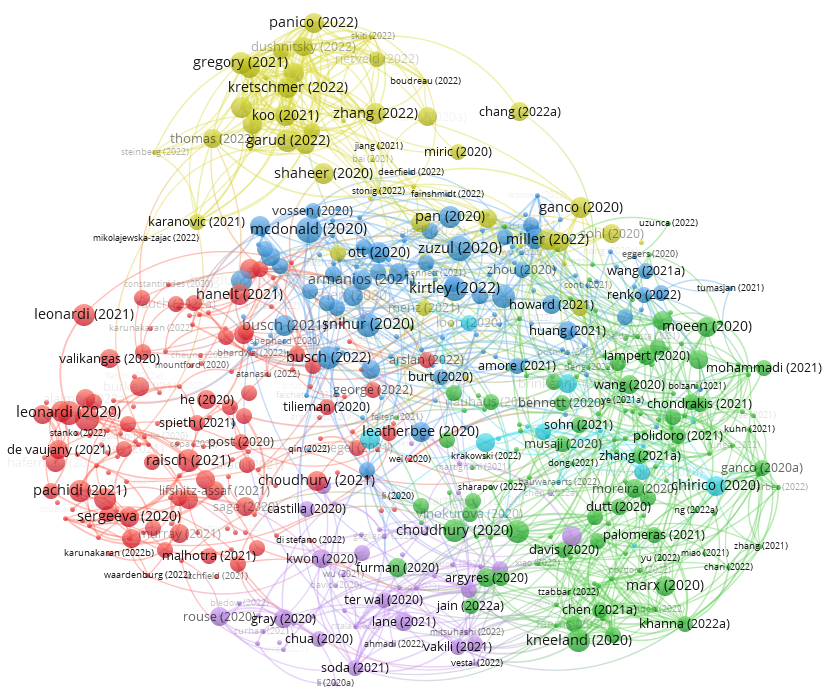 I quickly browsed through each of the clusters to identify the research themes. In the following table, I describe my findings.
| | | | |
| --- | --- | --- | --- |
| Cluster (Number of Articles) | Top Keywords | Theme | Sample paper |
| Red (156) | work, organization, organizational, technology, theory, practice, process, digital, actor, social | How the nature of work is changing due to digital technologies | Behavioral Visibility: A new paradigm for organization studies in the age of digitization, digitalization, and datafication |
| Green (146) | firm, innovation, patent, knowledge, resource, technological, industry, performance, technology, search | How can firms manage innovation in uncertain environments? | Exploring Uncharted Territory: Knowledge Search Processes in the Origination of Outlier Innovation |
| Blue (127) | venture, entrepreneurship, entrepreneur, entrepreneurial, firm, startup, performance, founder, opportunity, innovation | How does a venture's business model emerge and evolve over time? | Parallel Play: Startups, Nascent Markets, and Effective Business-model Design |
| Yellow (52) | platform, ecosystem, design, product, firm, digital platform, business model, network effect, strategy, performance | How can platforms be effectively governed to maximize value for different actors? | From proprietary to collective governance: How do platform participation strategies evolve? |
| Violet (48) | team, network, creativity, employee, creative, idea, innovation, diversity, individual, project | How can teams and networks be harnessed for creativity? | Networks, Creativity, and Time: Staying Creative through Brokerage and Network Rejuvenation |
| Light blue (20) | family, family firm, innovation, succession, family business, transgenerational, firm, ownership, woman, role | How can family firms be innovative? | Innovation Motives in Family Firms: A Transgenerational View |
Conducting this quick analysis has made me realize that the things I have been working on have been quite different from the interests of top scholars in the general management field. A lot more reflection I need to do then.